STAND NUMBER: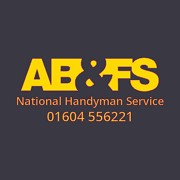 AB&FS National Handyman Services Ltd
We provide affordable National Handyman services to the licenced Pub, Hotel & Restaurant Trades, Commercial, Office, Retail and Leisure industries. On a day or half day rates. we also offer 365/6 days 24/7 call outs for contracted clients, we also offer reactive only contracts. When your business is open we are open.

Services we provide are as follows :-

•Electrical
•Plumbing
•Drainage
•Carpentry
•Building works
•Outdoor temporary Bars/Structures
•Gardening
•Garden Clearance
•Landscaping
•Painting & Decorating
•General Handyman works

We also have consultancy services for commercial EPC and TM44 reports.