STAND NUMBER: 852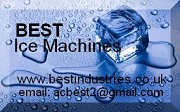 BEST Industries
BEST INDUSTRIES is a newly formed group specialising in ice machines, coffee makers, glass washers and water filters.
With 43 years experience in the refrigeration and electrical industry we are able to offer you a premium service.
If you were a visitor to IMBIBE LIVE this year you may have seen our stand E7 where we were exhibiting five of the popular size ice machines. If so we hope you were able to appreciate the high standard one can expect from our machines.

2 years warranty.

As well as offering free delivery we will install the machine and fit a water filter to ensure prolonged trouble-free life of the machine. You will have peace of mind and we will be confident in giving you two years warranty.

MAINTENANCE
A maintenance contract for ice machines consists of 2 visits per year during which we would thoroughly clean the machine to ensure maximum output of clear ice and drastically reduce the chances of mechanical failure. As we are confident in our product we believe that with adequate maintenance we can expect these machines to give trouble-free service for years to come.

Call us for a quote on bigger installations with multiple machines.
Prices are subject to vat.

WATER FILTER KITS AVAILABLE
Transparent jacket allows you to see the condition of the filter. Comes with flexible pipe, adaptors and shut off valve for easy installation.

DRAIN PUMPS
Gives more options to positioning of machines where drainage can be a problem.

CLEANING PRODUCTS
Apart from the obvious need to reduce scale which will restrict the water flow and stop production, a clean machine will produce clearer ice than one with residual impurities. A properly cleaned condenser coil will last years longer than one subjected to acid deposits.
0116 253 2510. + 07850 099044