STAND NUMBER: 412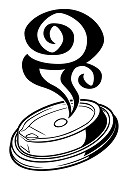 FoamAroma UK
FOAMAROMA - WHAT IS IT?
FoamAroma gives the 'on the go' coffee lover a far better sensory experience by allowing for free flow of both the foam and the aroma.

Savour the foam + inhale the aroma = enjoy your coffee experience

There are also many other additional benefits from using the FoamAroma lid, including the angled drinking hole for temperature test-and-rest, depressed nose space, reduced spillage (with or without AromaSnap) and the bottom lip rest. The material used also makes the lid both re-usable & recyclable.

Our hope is that FoamAroma offers the coffee lover a better sensory experience that rewards them with maximum enjoyment of their coffee time.

THE HISTORY & DEVELOPMENT
Back in 2007, inspiration presented itself to Craig Bailey in the form of a latte at a coffee shop in America. "Why was the foamy latte so much better while drinking it in the shop from a ceramic mug compared to the typical to-go paper cup and lid?" The issue was the plastic lid. But what was the solution?

After a few more lattes Craig discovered the missing link and began on a quest to create a solution. Craig applied his engineering and project management skills to several months of Research & Development in Craig`s laboratory (a.k.a. kitchen) to find the right combination of contours and hole shapes for a better coffee lid. Next came the patent application and prototype development - it turns out making an angled drinking hole during the thermoforming process used to make the lid is more difficult than a flat drinking hole. However the form and function of FoamAroma® demanded Craig to go the extra mile to make it work.