STAND NUMBER: 1050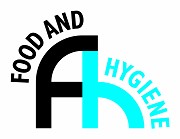 Food and Hygiene Ltd
How safe is your kitchen? It costs less than you think to give your customers the confidence to keep coming back for more. We offer a wide range of affordable service to meet the needs of your business, whether that`s in catering, retail or food manufacturing. Our competitive prices mean it doesn't have to cost the earth to protect your reputation and brand image in which you have heavily invested.
Food and Hygiene Ltd supports businesses to help improve and maintain their `Star Rating`. With more and more businesses seeing the benefits of displaying their 5 * rating as it demonstrates to customers their commitment to food safety.

Our services include, Food Hygiene Audits, Supplier Audits, Safer Food Better Business packs, HACCP design and implementation, Food Hygiene training, Health & Safety training and much much more.

With the prospect of displaying food hygiene scores becoming mandatory in England very soon, protect your brand, let Food and Hygiene give you peace of mind that you and your team are maintaining a safe kitchen.
We have many services on offer but If you don`t see something that suits your needs, we will do our best to create a bespoke solution just for you.



01827826141