STAND NUMBER: 2102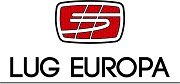 LUG EUROPA
LUG EUROPA is supplying adapted carriage solutions for food delivery.
Our comprehensive range includes bike and scooter cases, manual, foldable and e-trolleys and ergonomic backpacks.

We are able to design tailor-made solutions according to specific requirements.
Our R&D department, composed of engineers, designers, technicians and prototypists provides relevant and reactive solutions. Great care is taken with selecting the materials and fabrics and we employ efficient manufacturing processes.

Robustness and safety
Careful attention is paid to the choice of components to get light, functional and resistant solutions. A wide range of safety solutions is available based on vehicle types and contents to be carried.


0033 (0)2 56 91 11 00