STAND NUMBER: 2050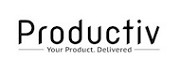 Productiv Delivery Ltd
Productiv Delivery: Your Product. Delivered.
With our own Automatic Dispatch software and our own driver app, we have delivered hundreds of thousand's of orders for major QSR's brands. We integrate with the online ordering platform, and once the order is accepted, we receive the details of the order and then our system auto assigns the best possible driver available to ensure we deliver the order to the consumer in the quickest possible time. Every element of the order process is time stamped and tracked and we have a full dashboard reporting suite for every level in an organisation. We maintain a simple pricing structure and with our reporting suite, you can see real-time performance and invoices at any time. Our Drivers are the most important element of the Productiv, and we ensure our staffing process contains all checks needed to be the best delivery business in the sector. We also link with key insurers to ensure that our drivers have the right cover to meet our customer's strict requirements.
Productiv Delivery is the answer to any delivery need in the food industry and our team is very proud of what we have achieved.


07583664449