STAND NUMBER: 9042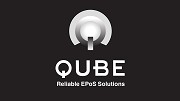 Qube EPoS Ltd
Proud to have serviced the hospitality industry for the last 15 years.

We all know technology in the 21st century changes at an unbelievable speed, and the EPoS sector is no different. We have noticed this at Qube, and since our creation in 2002 we have remained at the forefront of new technology and innovation, whilst also having a wealth of knowledge in all aspects of EPoS; from where it started, to where it is on this very day.

EPoS can add so much value to your business. We know this because we have seen it first-hand, time and time again.

Our products will not leave you tied into monthly subscriptions, annual software renewals. Neither will they leave you vulnerable to viruses and hackers. They do not need the internet to operate properly. Additionally, your data is your data, it's not stored somewhere you cannot always access it.

We specialise in supplying and supporting EPoS systems to the hospitality industry. Our products are feature rich, robust, reliable and affordable. We believe in working with our customers from consultation through to installation and training. Having this way of thinking ensures that our customers receive a product programmed to operate and perform exactly to their specification.

As such it will come as no surprise that we are absolutely not believers in the 'one box fits all' mentality.

We would welcome the opportunity to talk to you.

0117 970 5000