Networking at the Takeaway & Restaurant Innovation Expo
The Takeaway & Restaurant Innovation Expo is renowned for providing unparalleled networking opportunities for takeaway and restaurant owners and investors, and this year's event offers you the greatest opportunity yet to make those vital new connections throughout the industry.
Over both days of the show, you will be provided with a networking platform that's unparalleled in scope, diversity, and opportunities to build new relationships with industry professionals from all over Europe, as well as developing your professional knowledge, passing on your own industry insight, and securing a business spark that only networking can provide.
No other event provides you with such a collection of leading minds in the field of restaurant and takeaway business growth, and the opportunity to engage, learn, build, and prosper is an advantage both you – and your business – will reap huge, long-term benefits from.
The show floor will be packed with professionals operating across every facet of the restaurant, takeaway, bar, café, and hospitality industries, and TRIE will give you access to a unique networking environment where both quality and quantity of connections are very much achievable.
The networking area has been specifically created to be the most effective networking setting possible, and conducive to the growth your business makes in the restaurant and takeaway industry.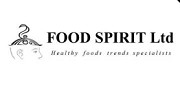 ABOUT THE SPONSORFood Spirit Ltd
Food Spirit Ltd aims to be one of the big players in the street food market in the region of UK, offering excellent service, best of value, and high quality, in fresh, natural, healthy and organic food products.
Food spirit develops own branded products that customers will recognize and prefer.
The main shareholders of F-S own and operate a "state of art" manufacture specialized in conversion of vintage food trucks and route master double deck busses.
Food spirit starts the operation of its own vintage food trucks and route master double deck busses at festivals, events, & shows from 1st of March 2018.
F-S aims to expand its own network of Vintage Citroen Vans and double Deck Bus as a franchise concept.
F-S Is looking for potential strategic partners with existing successful restaurants or innovative food concepts that could be presented in evens, festivals or shows with its own vintage food trucks and double deck busses.
Furthermore is looking for clients, that will be interested in, to supply their own vintage food trucks and double deck busses, adapted to their own, Event concept.