Creates a variety of sweet & savoury hummus from surplus fruit and vegetables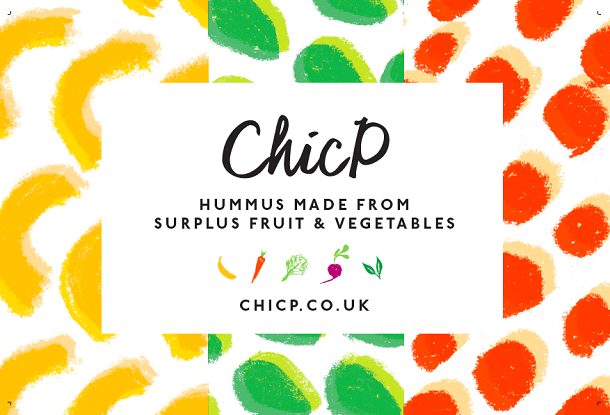 40% of British crops are rejected because of their shape and size and approximately 1/3 of the food produced in the UK is never eaten!


ChicP hummus is unique, delicious, healthy, sustainable, guilt free, colourful and supports British farmers.


The hummus is made from raw vegetables, adding extra nutritional benefits. All the products are free from gluten, dairy and sugar. The UK (and U.S.) consumer market is currently experiencing a huge trend in the revival of high-protein-low-carbohydrate dips and 'free-from' foods and ChicP is right on trend! ChicP hummus also has fewer calories than any of the other hummus products.


ChicP is driven by a passion to change people's attitudes to food preparation, consumption and waste; we would like to encourage people to think differently about the way they eat.


Over the last 9 years, I have cooked for catering and events companies and as a private chef in the UK and Europe. Having witnessed the colossal amounts of food waste at catering events, I felt driven to respond. While cooking as a private chef, time and time again I would convert leftover vegetable dishes into dips for the next meal. Nearly every day the question would be "What's the dip of the day Hannah?!"


Our fruit hummus is an exciting, delicious, healthy, innovative product; perfect for breakfast, dessert and post workout… Think banana & cacao hummus. Other than drinks, there are few other healthy breakfast options on the market that combine both vegetables, fruit and protein.


ChicP hummus is great for both retail and the food service industries, men, women and children. We have recently collaborated with a nursery in Central London and Universities outside of London are really excited by our hummus!


Buy ChicP online at: www.chicp.co.uk/hummus. You will also find us at a number of events: www.chicp.co.uk/events


ChicP will launch with ISS Global Hospitality in July and London Independents on 1 August. Our aim is for ChicP to be stocked in a number of key retail outlets and foodservice companies by the end of year 1, demonstrating both a strong sales track record and firm partnerships. We want people to be able to indulge in our guilt-free, healthy, versatile hummus, whether at home, on a plane, at a party, or on the go.. ChicP's message is – Educate (everyone), Eradicate (food waste), Energise (by eating healthy hummus) - and Enjoy!


On March 1st 2016, ChicP was announced as Winner of Best Convenience Food Innovation Award for the World Food Innovation Awards 2016.


ChicP aims to be at the forefront of forward thinking retailers in the near future!





Testimonial from "RudeHealth": Hummus went down an absolute treat - everyone loved it! They really couldn't have gone down better here -consistency and texture is perfect.


For more information, please contact Hannah McCollum at:


T: +44(0)7788474803


Twitter, Instagram, Facebook: @chicpfood


196A New Kings Road,


London, SW6 4NF