STAND NUMBER: 6012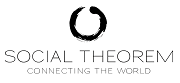 Social Theorem Consulting Inc
Operating via virtual offices across the globe, Social Theorem is a niche Digital Media Agency with a focus on restaurants and nightlife. We are experts in customizing your operative social theorem to increase direct sales, traffic and brand awareness.

Social Theorem creates real world connections by merging the good old school handshake with a little modern day tool called The Internet. Our clients choose us because we listen to them and implement strategies that will turn their objectives into creative and measurable realties.

What we can guarantee you is; Brand awareness, consistent message, increase in sales and repeat customers, enhanced customer service, competitive edge, cost effective strategies, exposure and connections to new client bases.

Digital Media has taken a dominant role in our day to day activities, let us take advantage and expose you to your direct consumer base and expand your brand. We`ll show you how to creatively turn your business into a booming one, how to takeover untapped markets and confidently become an innovative leader in the hospitality industry.

Having an extensive background in hospitality and marketing, we understand the needs of individuals and brands from the hospitality industry. We can deliver better results at lower costs. Whether it be branding, consulting, social media, strategy development or content creation that is required, we will not only generate greater leads for you but connect you with your customers, some of which, you didn`t know existed.

Would you sell your house without a broker?
Would you represent yourself in court?
Would you do your own corporate taxes and filings?
Would you plan your own wedding?

Digital Media, like these other examples is a specialty. It is meant for everyone to use and to enjoy but only a few have mastered the intricacies and algorithms that allow for a brand to develop in what seems like an organic way, with subtle hints to buy a product while generating income, leads, data, new costumers, brand recognition and interaction.

Work with professionals that understand not only the technology that is currently available but the ones that are coming and being released each week. Work with professionals that understand your demographic, their patterns, their wants and needs and most importantly, how to translate that in more business for your company. Work with professionals that do not use third party software, that care about your image & brand, that creates custom content relevant to the times and demographic you are seeking. Work with professionals that not only understand Digital & Social Media but your industry as well, that understands what owners, managers, staff, customers go through while also understanding the cost/profit ratio of your business, knowing that every dollars is important.

Become a leader of your industry, become a household name in your market, be the new standard, increase your business and revenues, expand your business, work with Social Theorem and accomplish new markers for your business.

Our missions is to spread your word. What are you waiting for?


+44 207 993 6371